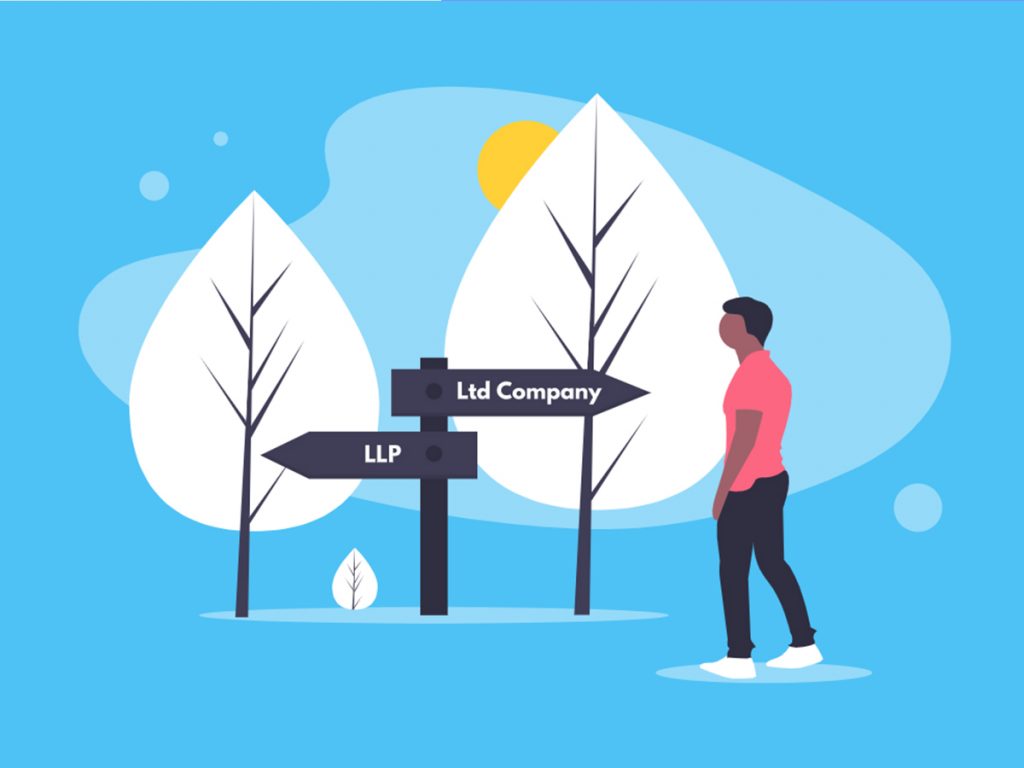 An LLP or Limited Liability Partnership is a popular business structure in India and one where the individuals that form the partnership are not liable for the risks but the startup as a whole is deemed responsible for any debts or liabilities that may arise during the running of the business. That means one partner is not responsible for another partner's misconduct or negligence. New businesses generally do not have a huge amount of capital to initiate their startup journey; they function under tight budgets and look for ways to keep costs down and manageable whether it be registration costs or partnering with vendors to procure raw materials. This business structure adopts the pros of a Limited Liability Company and the flexibility of a Partnership Firm. Before investing in startups via LLP it is a good idea to take a look at the pros of investing in such a startup business.
Cost effective: Registration of an LLP is about 800 rupees as opposed to registration of other companies and private limited companies which can be about 6000 INR.
Ownership: The ownership of an LLP is flexible allowing designated partners to own the company. In the case of an LLC the partners have to appoint shareholders.
Less Capital: There is no minimum limit of capital that the owners are required to bring in unlike in other forms of business where there is a minimum amount of capital that is required and the amount is approximately 1 lakh.
No Mandatory Audit: Only those LLP's with a turnover of 40 lakhs or more and a contribution of 25 lakhs or more are required to be audited. Other smaller startups do not come under the radar of the audit.
No maximum limit of partners: An LLP can have as many partners as desired unlike LLCs where there is a maximum limit of 50 partners.
Perpetual Succession: An LLP has perpetual succession. Without any changes in the partners of the LLP it will remain the same until it is wound up according to the provisions of the relevant law.
Easy transferable ownership: It is easy to become a partner or transfer the ownership in an LLP according to the terms of the agreement.
Taxation: When it comes to taxation, LLPs are taxed at a lower rate than companies. They are also exempt from the Dividend Distribution Tax unlike companies.
Who can invest in an LLP: There are many reasons why LLP is beneficial for startups in India. However, there are a lot of questions that a potential investor may have before taking the plunge such as, can an LLP do investment business? Can investors invest in LLP? and more importantly – Is it safe to invest in LLP? Some may also wonder – Can LLP raise venture capital? It is worth noting that Foreign nationals are at liberty to invest and be partners in an LLP. Another benefit is that LLPs can invest in a Private Limited company or a Public company and become a shareholder. In addition, other corporate bodies are free to be partners in an LLP.
LLP and Investors: The FDI policy has been amended for LLP and foreign nationals are eligible to invest in an LLP without the permission of the government. An Indian company that has FDI will be allowed to make downstream investment in LLP's only if both the company as well as the LLP is functioning in sectors where 100% FDI is allowed and there are no FDI performance-related conditions.
Venture Capitalists and LLP's: In India Venture Capitalists are still not entirely comfortable with the concept of LLP and stress the fact that they will only consider those startups that fall into the category of Private Limited Companies. VCs prefer not to take risks and have been slow to adapt to the concept of LLPs in India despite the fact that LLPs have proven to be beneficial to a lot of startups in India.
What makes an LLP so special from a startup standpoint?
LLPs have been in existence since 2008 and since then it has been adopted by thousands of startups. It is one of those business models that enable owners to keep high costs and stringent norms at bay. In addition, it attracts less stringent penalties and in the event of non-compliance to laws and regulations.
On the downside, there are a few disadvantages of LLP's and some of them include:
Attracting funding: Funding is necessary to start, maintain and grow a business. LLP's cannot issue shares and are therefore unable to attract equity funding. This disadvantage can be critical and affect the growth of a startup business.
Business Credibility: When it comes to credibility, because the investors or partners cannot be held liable for the losses of the company, not everyone wants to invest in an LLP.
CoffeeMug.ai is the most suitable platform for startups to move forward with their innovative ideas. The platform helps budding firms to grow and transform their concepts into workable business strategies. The team at CoffeeMug.ai will assist an entrepreneur in determining whether his innovation is marketable, do market research to determine the best combination, receive feedback, and produce a market-ready prototype.
FAQs
Q. Can an LLP make investments?
A. As per RBI regulations, an LLP cannot register as an NBFC for investment or funding activities.
Q. Can LLP raise venture capital?
A. LLP can raise money either from internal or external sources. Internal fundraising implies increasing capital allocations, adding new partners, etc. Approaching venture capitalists or seeking bank loans refers to external fundraising
Q. Can an LLP invest in stocks?
A. LLP is allowed to gain membership in the Indian stock exchange market, but it cannot be the main business of the LLP.
Q. How is LLP different from Pvt Ltd company?
A. A Private Limited Firm (PLC) is a privately owned company and is mainly for smaller firms. A Limited Liability Partnership (LLP) is a partnership business formed by a minimum of two members. An LLP can have as many members as it wants, but the members will be limited in their liability.