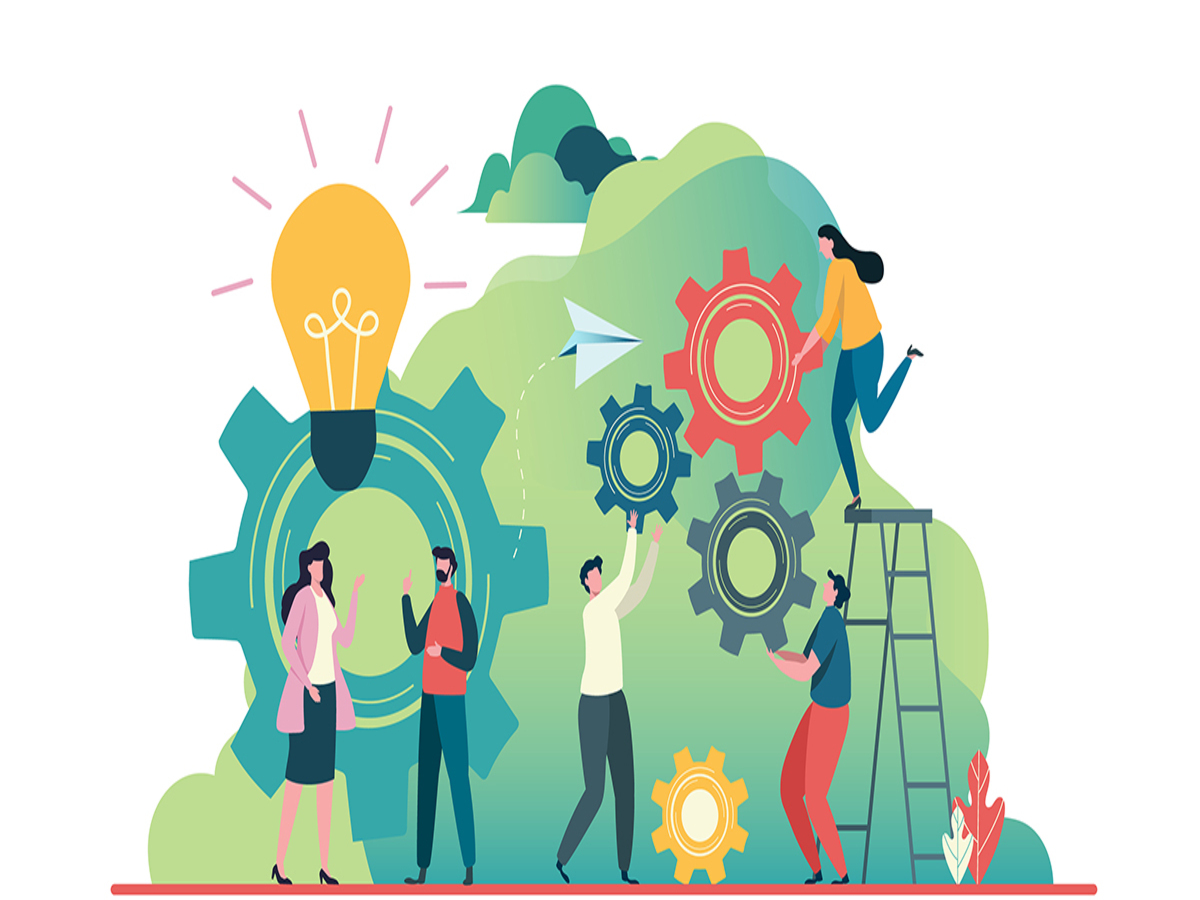 With one of the world's greatest start-up ecosystems, India is quickly becoming the favourite home for unicorns, from Urban Company to Byju's, from Up grad to Nykaa. According to statistics, Indian start-ups have flourished in recent times, with a total investment of $6.6 billion in 2018, rising to $10 billion in 2020, and then to $36 billion in 2021. Clearly, India has a plethora of successful start-ups due to a number of factors, including the presence of venture capitalists, a strong entrepreneurial culture, and an economy that is rapidly growing, which provide a solid foundation for successful start-ups in India.
Even in the face of the coronavirus pandemic that slowed down the global economy over the past two years, a number of Indian start-ups managed to launch initial public offerings (IPOs) in 2021.
Let's take a look at the five most successful start-ups in India.
BYJU'S
Head Quarters: Bangalore, Karnataka
Year Founded: 2011
Founders: Byju Raveendran, Divya Gokulnath
Revenue: ₹2,800 crore
Founded in 2011, BYJU'S is among the top Indian start-ups in Ed-tech sector, generating adaptive, interactive and valuable products for students aged 4 to 30 through its products spanning over kindergarten to 12th grade students. Furthermore, it helps aspirants of competitive exams like JEE, IAS, etc prepare for the tests. Byju's has the backing of big names like Zuckerberg, Sequoia, Tencent, Verlinvest, Sofina, Lightspeed, and IFC, among others. It is available in ten countries, with over 100 million downloads and about 5 million paid annual memberships.
Success Mantra: For BYJU, converting students to subscribers after the free trial period ended was a huge challenge. The recent pandemic emergency, on the other hand, boosted eLearning platforms, and the Byju's app enabled individualized learning to become a huge hit.
USP: The company focuses on giving each of its consumers a unique learning experience based on their interests and learning styles. The app combines videos, interactive learning sessions and trainers to bring concepts to life.
OYO
Head Quarters: Gurgaon, Haryana
Year Founded: 2012
Founders: Ritesh Agarwal
Revenue: ₹4,157 crore
OYO Rooms, a Gurugram-based firm operates a virtual hospitality brand in India, pooling inexpensive hotels and guesthouses and making their inventory available for internet booking to travellers. A popular way for millennials to book hotels is using the start-up to connect the availability of economy rooms in India with internet demand. OYO began its journey in India and now operates in over 800 locations in over 80 countries across the world. OYO is funded by a group of 29 investors. The most recent investors are Qatar Insurance Company and Microsoft.
Success Mantra: Regardless of the difficulties, OYO has expanded its horizons outside India and beyond simply hotels.
USP: The inexpensive rate has been the USP of Oyo Rooms.
CoffeeMug.ai is a powerful platform for start-ups and investors to navigate opportunities for expansion by connecting them with seasoned mentors who can share their expertise and contacts garnered from years of experience.
Big Basket
Head Quarters: Bangalore, Karnataka
Year Founded: 2011
Founders: Hari Menon, V. S. Sudhakar, Vipul Parekh, V. S. Ramesh, Abhinay Choudhari
Revenue: ₹ 6,558 crore
Big Basket is India's leading online grocery and food delivery service. The organization offers a diverse range of 18,000 items from over 1000 brands, including fresh fruits and vegetables, rice and dals, drinks, personal care products, meats, and other everyday home necessities. Tata Group acquired a majority stake of 64% in Big Basket in the recent agreement, making it the company's owner.
Success mantra: Despite encountering numerous challenges, such as convincing customers to try their service and market competition from local providers and purchasing patterns, Big Basket was able to overcome all of them.
USP: Big Basket was an instant hit because it was a one-of-a-kind grocery start-up that had never been conceptualized before.
Nykaa
Head Quarters: Mumbai, Maharashtra,
Year Founded: 2012
Founders: Falguni Nayar
Revenue: ₹2,440 crore
Among Indian start-ups, Nykaa.com is the most popular online beauty and wellness destination. Nykaa is primarily an e-commerce platform that sells everything from international cosmetic brands to jewellery, but it later expanded to include retail locations in a number of major cities around the country. Ms Nayar said the physical stores, which cater to Indian customers who like to touch and feel items, are an important part of the business.
Success Mantra: One of Nykaa's biggest challenges was to keep shoppers interested, because if it failed to deliver an excellent experience, customers would be unhappy. The company's success is based on giving the greatest products and services to its customers in order to assist them in making the right selection for their holistic beauty requirements.
USP: Nykaa offers highly curated, reasonably priced, 100% genuine and branded products.
Delhivery
Head Quarters: Gurgaon, Haryana
Year Founded: 2011
Founders: Sahil Barua, Kapil Bharati, Mohit Tandon, Suraj Saharan, Bhavesh Manglani
Revenue: ₹ 4644 crore
Even though logistics has always been an essential sector for any country, including India, the field has never experienced such a revolutionary shift before Delhivery. Since 2011, this company has established itself as among the most successful start-ups in India, and it is now a major player in the logistics sector. They offer a strong supply chain platform as well as logistical services such as last-mile delivery, warehousing, package transport, reverse logistics, and technology. It currently operates in over 2000 cities, and the company's primary focus is on competing as India's largest delivery platform.
Success mantra: Variables associated such as achieving routing efficiency and route planning, balancing last mile connectivity, and volatility in transit, the Delhivery network enabled goods to be moved faster and in the most efficient manner feasible.
USP: It is a relay-based model.
Next Stage: Upcoming start-ups in India to Watch in 2022
In spite of the fact that many start-ups die before they launch, the Indian start-ups are rejuvenating our country's economy at an unprecedented level, especially after the pandemic. Similarly, the Indian government has also encouraged entrepreneurial activities through its Start-up India Initiative for some time now. Therefore, these unique ideas have led to a growing number of Indian entrepreneurs entering the market.
Some of the upcoming start-ups in India with excellent future potential are:
TradeX is a New Delhi-based Indian firm that was launched in 2021. It's a fintech company that offers its users a market trading platform that uses forecasts to help them make trades based on their own personal beliefs, and they may receive rewards for making correct predictions.
Rupifi based in Bengaluru, this company provides B2B fintech services that make it easier for small businesses to obtain the capital they require by providing working capital, payment services, and loans.
Power House 91 is a tech-driven firm that has aided a slew of e-commerce firms in their expansion efforts by providing considerable growth investment as well as extensive functional experience in supply chain, marketing, and technology.
Love Earth is a skincare and wellness brand that has made waves in the industry with its eco-friendly, clean, and organic products. Paridhi Goel, a visionary female entrepreneur, started the business with the goal of curating natural products free of dangerous chemicals.
Zorro makes it easier for its customers to get everything they need to keep their businesses functioning by utilizing cutting-edge tools and technology. As an eCommerce firm, Zorro has improved their site to make searching, ordering, and delivering millions of products as simple and effortless as possible.
Conclusion
Finally, we can conclude that India has a number of successful start-ups. Meanwhile, in the near future, we will see a slew of new Indian start-ups vying for the top spot on the global stage. Several firms, such as Bjyu's and Unacademy, emerged rapidly as a result of the COVID-19 pandemic. They accepted this scenario as a challenge and grew their business in a positive way, as many students began learning from their applications during the lockdown period. So, we'll simply have to wait and see how the Indian market unfolds.
If you're starting out or scaling up to meet demand, connecting with the right people, products, and best practices help your start-up grow efficiently. CoffeeMug is on a mission to help build vibrant, diverse, and inclusive start-up communities all around the world. We help start-ups expand by connecting them with the right people, products, and best practices.
FAQs
Q. In India, what is the average investment in startups?
A. In 2021, Indian startups have raised funds worth $36 billion.
Q. Which Indian startups are the most powerful?
A. Metalwork, automotive, IT, finance, and insurance are among India's most powerful startup sectors.
Q. What exactly is a unicorn?
A. A unicorn is a word used in the venture capital business to designate a privately held start-up company having a market capitalization of more than $1 billion.
Q. What sparked the unicorn craze in 2021?
A. The following were the three primary factors:
a growing digital payments ecosystem,
a sizable smartphone user base
business concepts based on digital technology
Q. What are the best cities in India for startups?
A. The top cities for startups are Bengaluru, Delhi NCR, Ahmedabad, and Gurugram.