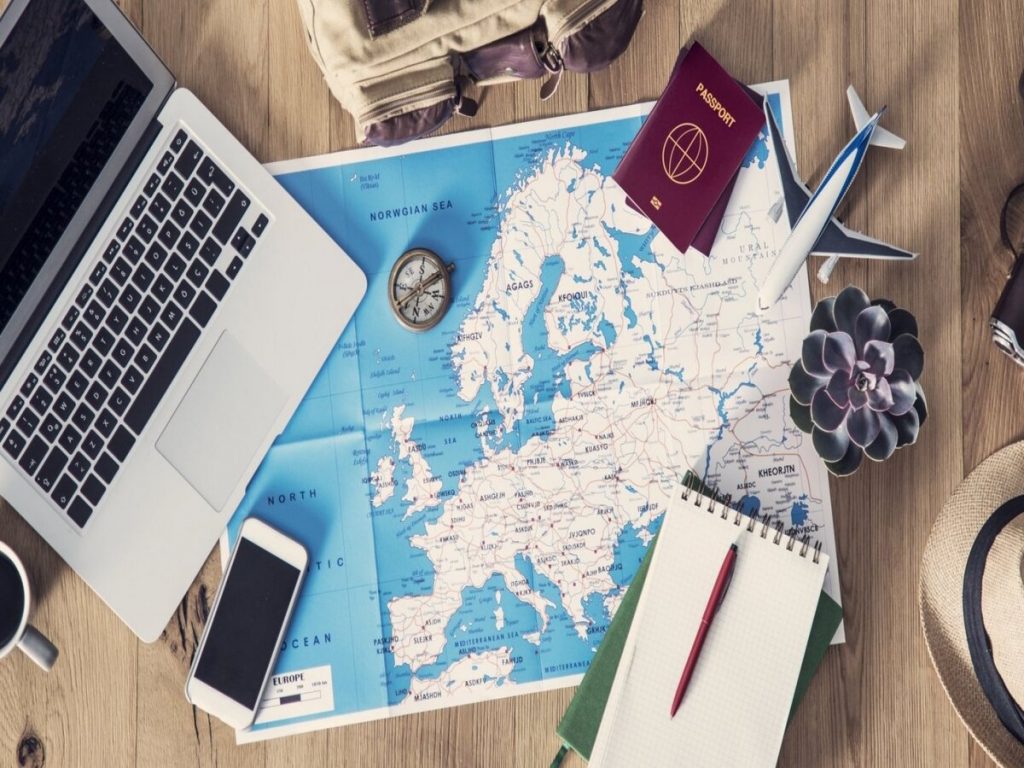 Do you love travelling and want to make it your career? You can indeed consider starting your own travel agency. There's no reason not to do it.
The tourism industry in India has enormous potential, and with the introduction of new technologies, there is little doubt about its continued growth. People just go online for all types of travel solutions, from purchasing a plane ticket to arranging an entire trip.
This trend has created a wealth of prospects for all young entrepreneurs, which is understandable given India's fast-growing travel and tourism business.
The first few questions that come to our mind is how to register travel agency? And how to start a travel website business in India?
Here are some of our finest pointers for getting your travel agency off the ground.
How to start a travel agency in India?
Getting the right licenses, working with airlines and hotels, figuring out visa procedures and finding the best financial services options are just a few of the things that come with starting a travel agency.
Let's take a closer look below.
Conduct extensive research and choose a travel niche
Investigate and understand your competitors' location, marketing strategy and way of doing business, and then strategize your own business program.
Selecting a single niche and focusing on all aspects of it will help you expand your business faster. A few forms of niches in the travel industry are B2B, B2C and corporate sectors.
Register your tours and travel company
As the next step, you'll need to decide what form of business to register. Do you want to register as a private corporation, LLP, OPC or partnership firm at this time?
To help you navigate how to register a tour and travel company in India, Coffeemug specialists have listed the procedures below that a startup should take:
Choose your company name.
Apply for a DIN online with the Ministry of Corporate Affairs (Director Identification Number).
Online DSC application (Digital Signature Certificate).
Compile your application materials.
Fill out e-Form 1A.
Draft a copy of the Memorandum of Association (MoA) and Articles of Association (Articles of Association) (AoA), print and notarize them.
Pay the enrollment and filing fees online.
Locate the appropriate RoC office.
Fill out an application and submit it to the RoC.
Take your Certificate of Incorporation.
Essential Legal requirements
Aside from registering the business, there are a few more important tasks to complete:
Registration for GST: Business owners must register for GST in order to collect GST from clients on services provided by the company.
Trademark registration: If a businessperson wishes to have a unique name and symbol, he or she must register as a trademark under Indian intellectual property laws.
Government approved certified Travel Agent: To become a Government of India certified travel agent, the travel agent must meet a variety of conditions, including capital investment, the number of personnel hired and the upkeep of a minimum office area, among other things. In addition, an application must be submitted to the Ministry of Tourism.
IATA Representative: IATA (International Air Transport Association) accreditation is a highly regarded sign of approval that is recognized all over the world. It is critical for a travel agency or travel agent providing international travel packages to be a member of IATA, since it provides numerous benefits in the field of air travel around the world.
Create a core team
Once you have understood how to register a tour and travel company in India, let's move on to the next important step, which is forming a team. A travel agency with its own in-house staff and marketing team will have a great deal of flexibility and will eventually be able to scale to a great extent.
Building your Travel and Tourism website
As you explore how to start a travel website business in India, you'll discover that a travel website is crucial to great tourism business growth.
Travel, as we all know, is more of an emotional getaway than a need. It is fuelled by a slew of emotions and social pressures. The visual appeal of your travel website is crucial in persuading visitors to take action.
Hence to build a good travel website these are the components are required:
Visuals of the destinations that are appealing
Locations and activities at the destination Information on how to schedule a trip
Services for reserving a hotel or a place to stay
Tour guides from the area
Booking information for local transportation, Local eateries and dining options
Personal anecdotes and testimonials
You can create a travel website from scratch or utilise a Website Builder tool like WIX, Weebly, WordPress or Squarespace.
Build your brand reputation
Essentially, the truth is that surviving in this market is challenging but with a well-developed strategy in place, you may stand out. You should design your website and marketing efforts around the emotions you want your visitors to have when they visit your site. Brand yourself by having satisfied customers.
It is important to consider your unique selling proposition at each stage of building your travel business. Many competitors are in the same industry as you. How will you approach that goal? How will you reach that creativity? Your company should have a strong identity. It must stand out from the crowd. There must be credibility in and dedication to, the chosen niche.
Conclusion
A tour and travel company should have the right mix of marketing and funding expertise. Join Coffeemug to connect with members who can help you with funding, GST/MSME registrations and FSSAI license registrations and marketing experts.
FAQs
Q. What are the most important services to include on your travel website?
A. Integrating transportation and hotel booking services into your travel website is critical.
Q. Which online portals provide services for business registration?
A. These services are available through internet portals such as Vakil Search, Venture Easy and Indiafilings.
Q. Which marketing techniques are the most effective when creating a travel website?
Paid campaigns on Facebook, Google etc.
Employing influencers to write travel blogs
Social media events and email marketing
Q. In today's travel industry, which innovative tools and techniques are critical?
A. The travel industry is progressively shifting to smartphone apps. Integrations like Instagram, Facebook, and Tumblr, which allow tourists to instantly display their adventures, are further boosting the travel business.
Q. How can a private limited company benefit you?
A. Owning your own travel business private limited will allow you to scale up your business. The reason for that is that investors and shareholders will be interested in your profit and return. You will have the potential to see your travel business take off with some serious investment.